Une idée forte, un pari fou ! Une autre vision du tablier.
Enfin un look de travail qui a du style !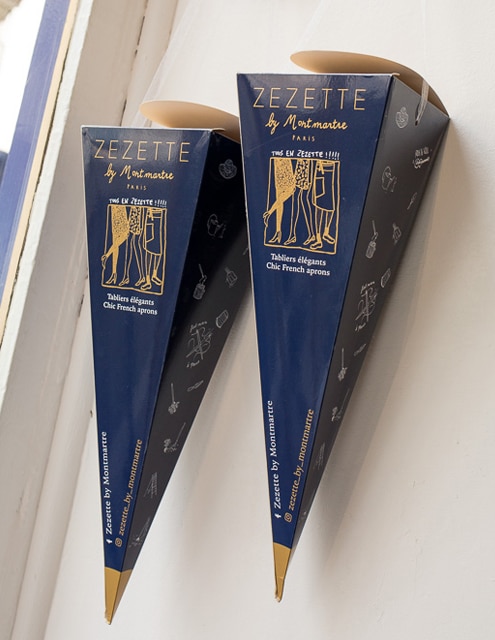 Zélia crée depuis des années des robes de mariée, tenues de soirée épiques et colorées dans son atelier boutique à Montmartre. Sa griffe Zélia Sur La terre Comme Au Ciel est une signature, un état d'esprit.
Elle a été récompensée en 2019 par la Chambre des Métiers de France.
Médaille de bronze de « L'Artisanat Français Reconnaissant ».
DEPUIS PLUSIEURS ANNÉES ELLE DEVELOPPE UNE GRIFFE DE TABLIERS CHICS ET ÉLÉGANTS, TELLEMENT STYLÉS QU'ILS S'IMPOSENT DESORMAIS EN VERITABLES ACCESSOIRES DE MODE.
Ainsi détourné de son origine et anobli, il sort des cuisines, hisse les imprimés, se pare de détails chics et épouse les silhouettes grâce à des coupes élaborées.
Zélia propose des collections duos (couples de deux tabliers) qui feront bon ménage. Des trios car les enfants s'en mêlent et les tribus se forment. Tous au travail dans la bonne humeur !
Quel que soit l'âge, maisons et jardins redeviennent les terrains de jeux propices à de nouvelles histoires, les tabliers de véritables alliés face aux corvées du quotidien. Les artisans adoptent un look matchant avec l'esprit de leur entreprise.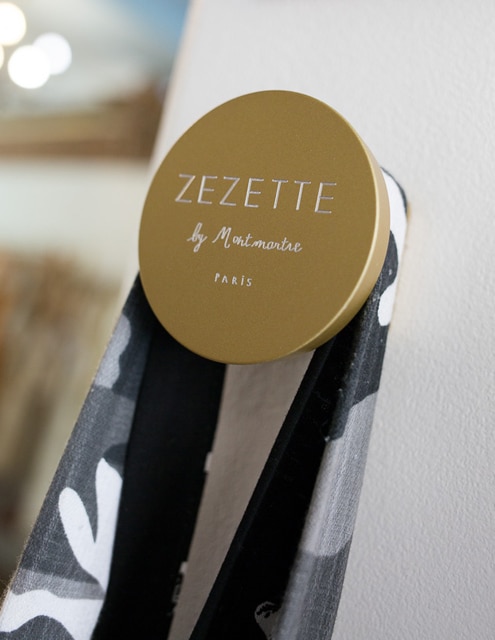 Pour vous, pour elle, pour lui, pour tous.
Pour offrir car il est parfait avec son packaging cornet surprise.
Pour les particuliers à la maison, comme pour les professionnels au travail.
Pour les cadeaux d'entreprise et les goodies afin d'incarner votre marque, votre société, votre événement.
Exemple : pour le président de RUNGIS Stéphane Layani lors de la Fête de la Gastronomie qui offre un tablier signé à ses invités VIP ou encore ce tablier exclusif dessiné pour être offert aux clients de l'agence AMOUR IMMOBILIER à Paris lors de la remise de leurs clefs.
Pour tous ceux qui affirment leur passion et leur savoir-faire, ZEZETTE propose des collections exclusives.
Récemment les grands chefs Christian Etchebest ou encore Gilles Marchal lui ont donné carte blanche pour leurs lignes de tabliers.
Et le non moins talentueux Guillaume Gomez a son tablier signé ZEZETTE.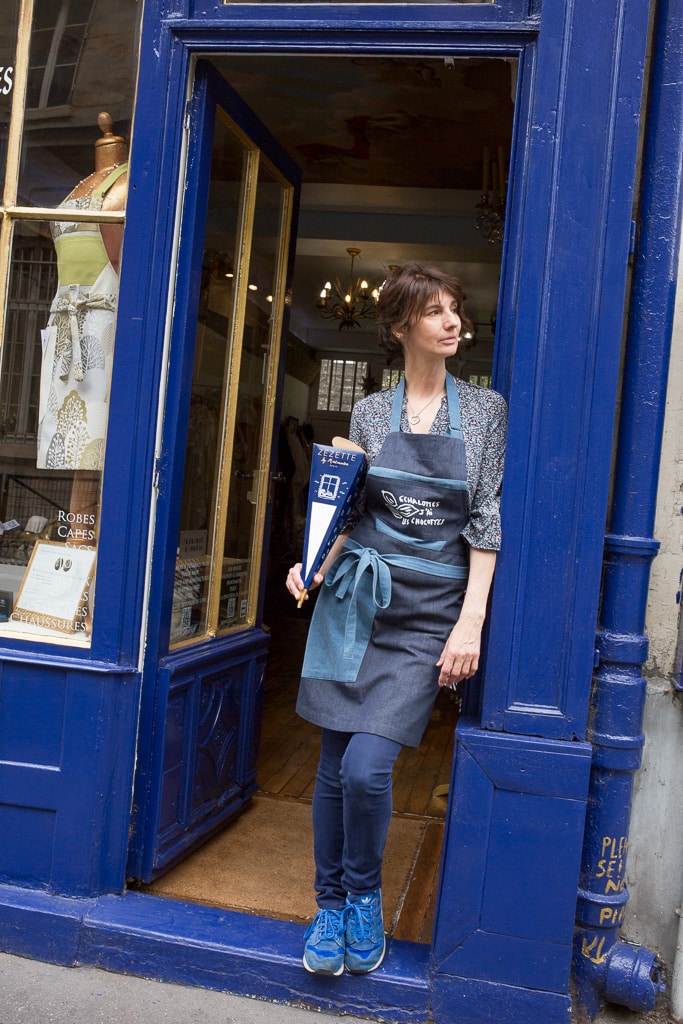 Tabliers élégants • Chic French aprons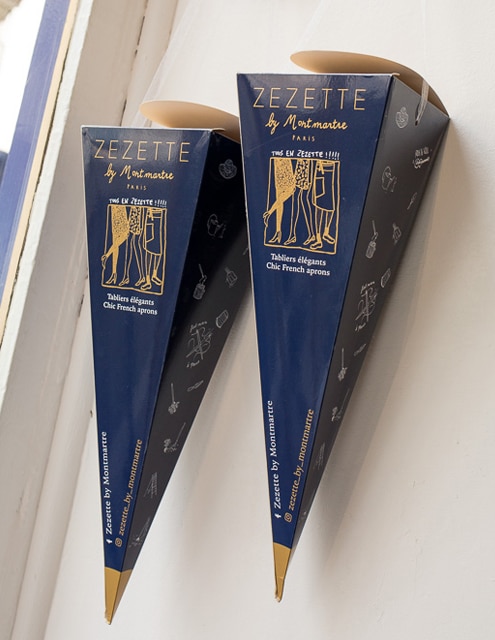 For thirty years, Zélia has been creating and making magnificent dresses in Montmartre.
Zélia can be found sewing away in her workshop at any hour of the day or night.
Zélia Sur La Terre Comme Au Ciel is more than just a label, a signature, it is a state of mind.
Behind the meters of fabric and lace, there is an artist as joyful and colorful as the dresses that are born under her fairy fingers.
She invents, cuts, sews, speaks, changes, dances. She shares—she is active on social media, but most especially, she has fun!
Her journey has been atypical. For many years, she has created wedding dresses and evening gowns for those who want something different and off the beaten path.
She is very attentive to the expectations and desires of her sparkling, playful clients, who love to dream, and who dream of being free spirited, light, and fun.
She can create, in a single session, exceptional pieces for celebrities, such as: the perfect dress for Marie-Claude Pietragalla, or even stage dresses for the divine Patricia Petibon, whose personality resonates so well with that of the lovely Zélia.
And so, like a second chapter in a beautiful story, a newly branded product is emerging—the apron.
The shepherdess wants to be a princess and the princess wants to go dancing with everyone—Cinderella knows how to shine with style!
Zélia has taken the apron away from its origins, and, with her expertise and know-how of artisan craftsmanship and the love of a job well-done, she has re-enchanted it. Her aprons have broken away from the kitchen and now sport colorful prints for all silhouettes, adorned with chic details.
Zélia has not forgotten that in today's day and age, men can wear an apron and prepare a dinner for his lady—and why not even with her together, or among their friends?
Zélia creates duos, trios, tribes, no matter the age. Houses and gardens become the playground for new stories, the aprons for true friends.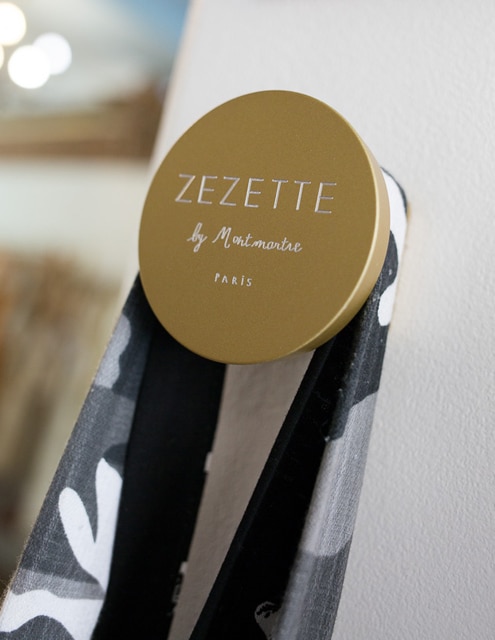 Classic aprons, rock 'n' roll aprons, country aprons, romantic aprons, eccentric aprons. To be given with a good bottle of wine, to welcome friends, to start the weekend, as a gift from France to tell of Paris or Montmartre, or to bring back as a souvenir after a stop at rue d'Orsel, as a way of storytelling.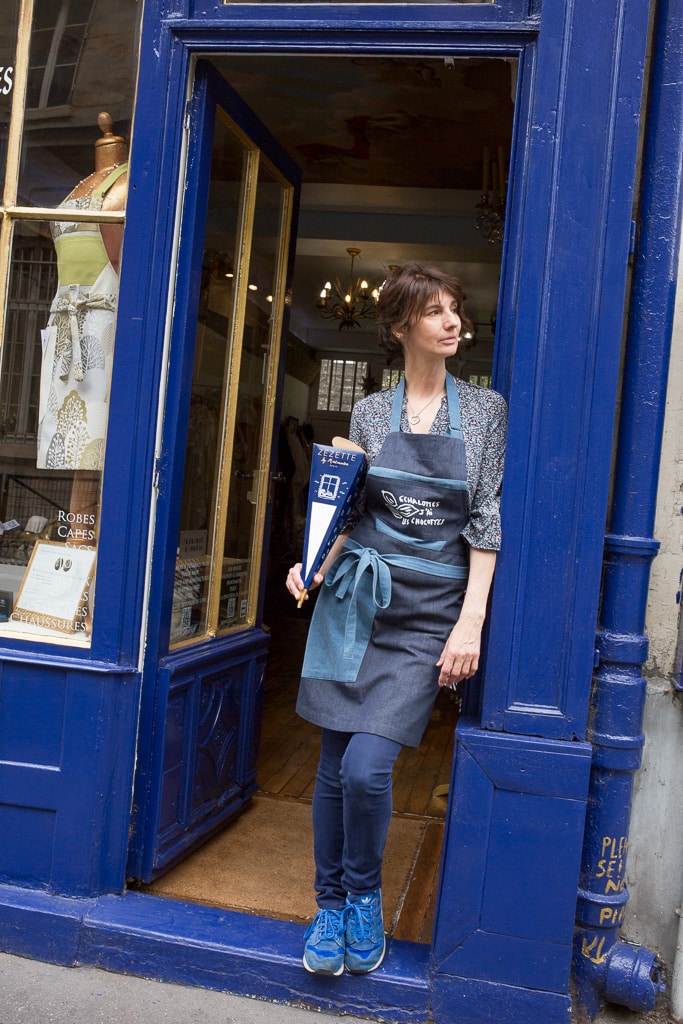 Fabrication Française • Made in France